On May 21, 1999, the Late Show with David Letterman featured an audience entirely from Boston. Audience members were mostly radio station contest winners. However, I had an idea...
I called the Late Show office the day of the show and asked if they had any standby or standing room tickets available. They said there may possibly be two openings but they wouldn't know for sure until later on -- just before show time. Perfect...that's all I needed to hear! So I called Chris with my whacky idea, we met at Logan airport, and took a shuttle flight down to NYC.
After a brief stop at Hooters in Manhattan (of course!), we made our way to the Ed Sullivan theater building. Courtney Love and her band, Hole, had just taped a show earlier that day so they were still hanging around. The bass player, Melissa Auf der Maur, was roaming around on the street while Courtney was hanging out of one of the windows of the Ed Sullivan Theatre. Chris saw Courtney up in the window and yelled, "Courtney, show us your boobs!". No such luck but she poured water down onto the crowd below instead.
Then out of nowhere we heard something like, "ok, who is showing their boobs?". We turned around and saw it was former WBCN DJ, Mark Parenteau. I hadn't seen him in several years so I was kinda surprised he recognized me on the street. While we were wandering around outside with Mark, we saw Biff Henderson and since it an all-Boston audience, the Mayor of Boston and a bunch of Boston's TV and radio people were there.
Among the media people was my old boss Charles Laquidara, who was a DJ in Boston for 30 years. It was Charles who made sure Chris and I got in to see the show -- he talked to a some people who talked to other people. They literally set up a few folding chairs for us way in the back of the balcony, but that was fine with us because at least we were inside and part of an historic broadcast featuring the
J. Geils Band
who reunited for the first time in
years!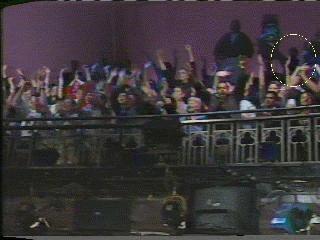 That's me, sitting in the audience.
There are pics on Charles' website, bigmattress.com.